A healthy and delicious Thai quinoa salad with lots of veggies and an amazing dressing!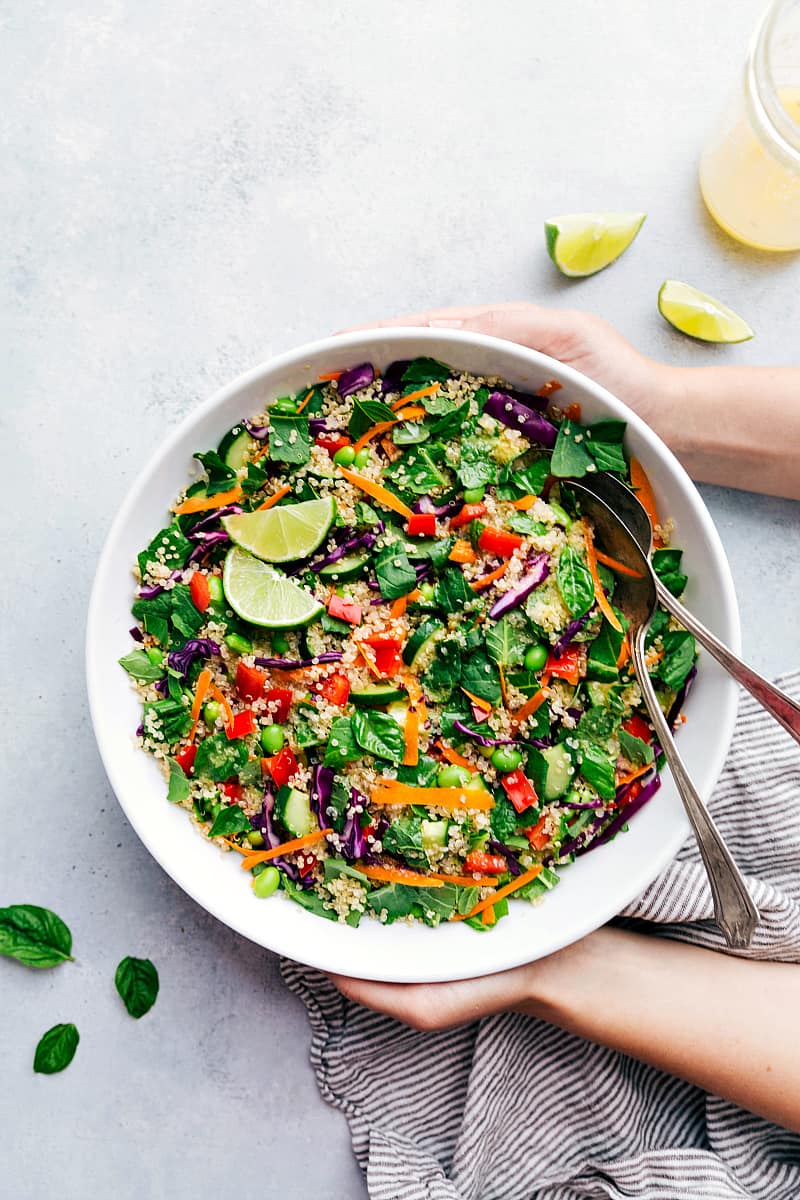 Thai Quinoa Salad
Hey everyone! Chelsea back from Chelsea's Messy Apron with a veggie and protein-packed Thai Quinoa Salad. As we're quickly approaching the holiday season, this is a salad recipe you'll want to have handy! After a heavy meal or a few days of eating less healthy than you might like, this is the perfect salad to get you back on track and make you feel great. With all these veggies and the protein from the quinoa you'll be feeling great in no time!
What makes this Thai Quinoa Salad healthy?
Quinoa is a low-glycemic food which means it is absorbed slowly into your body. A slow absorption mitigates spikes in your blood sugar which affects your mood, energy levels, and even how hungry you feel – which prevents over-eating.
Basil has actually been found to detox heavy metals (such as aluminum, mercery, arsenic, lead, etc.) from your body which in turn protects just about every vital organ.
Kale naturally boosts your metabolism, is known as a "cancer fighter," and has a ton of iron. It also has a high concentration of vitamin A which promotes clear and healthy skin by allowing your body to properly retain moisture.
Lime Juice helps to flush toxins out of your digestive tract.
Green onions help to rid your liver of harmful toxins.
Tips to make this Thai Quinoa Salad the BEST:
Only add dressing to what you plan on eating in the same day. Unfortunately this Thai quinoa salad doesn't sit very well with the dressing mixed into it. If you aren't planning on eating the whole salad at one sitting, toss only what you'll being eating on day 1 with the dressing. If you keep the dressing separate this salad can store in the fridge for up to 3 days.
Mix it up. Try some different veggies or different herbs. You could even try dressing this Thai Quinoa Salad with a peanut sauce/dressing instead of the vinaigrette shared in this recipe. You can try the dressing from this recipe for this Thai Quinoa Salad!
Add some meat. This salad is vegetarian by default, but it's perfectly acceptable to grill some chicken to serve on the side or to chop up and put on top of the salad. Don't think it's necessary to add meat to the salad, however. It's loaded with protein even without meat and you'll be amazed just how filling it is.
Rinse the quinoa. Quinoa has a bitter saponin coating so you'll want to rinse it before preparing it. I like to pour the quinoa in a fine mesh sieve and rinse it quickly. I also typically cook quinoa in chicken or vegetable broth to infuse it with more flavor.
More Quinoa Salad Recipes:
Thai Quinoa Salad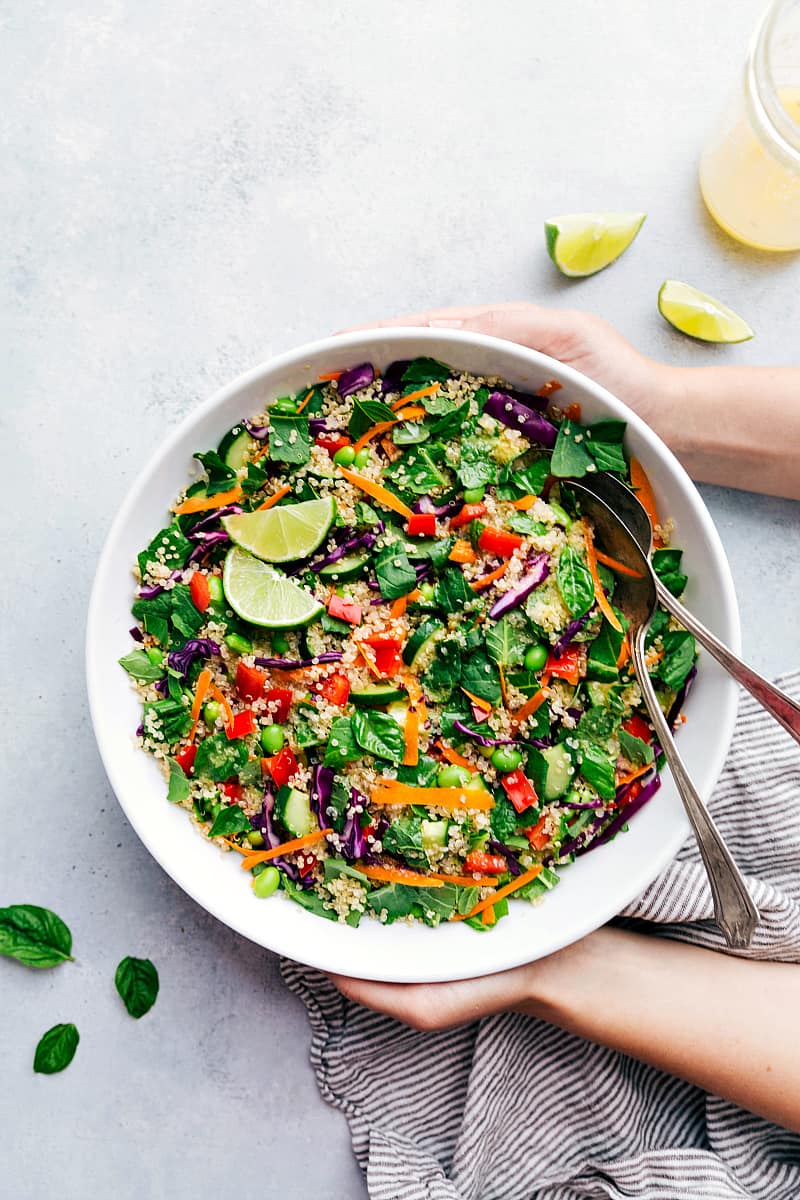 1 cup quinoa
1 red bell pepper, chopped
1 carrot, peeled and shredded
1 English cucumber, chopped
1 cup frozen edamame, thawed
6 green onions, thinly chopped
1-2 cups shredded red cabbage
2 cups baby kale, coarsely chopped
2 tablespoons fresh basil, ribboned
Optional: fresh limes
4 teaspoons fish sauce
3 limes, juiced (about 6 teaspoons lime juice)
2 teaspoons lime zest
2 tablespoons white sugar
1 tablespoon vegetable oil
1 tablespoon freshly grated ginger
1 teaspoon sesame oil
Optional: pinch of red pepper flakes
Prepare the quinoa according to package directions. Transfer to a large bowl and chill in the fridge until completely cooled down.
In the meantime, make the dressing by combining all of the dressing ingredients into a mason jar. Add the lid and shake to combine. Taste and adjust to personal preference.
Once the quinoa is completely cooled down, add the chopped red pepper, shredded carrot, chopped cucumber, thawed edamame, chopped green onions, shredded red cabbage, coarsely chopped kale, and ribboned basil.
Toss to combine (add dressing only to the portion of the salad that will be eaten the same day). Add the dressing to the salad and again, taste and adjust for seasonings (add more lime juice, salt, etc. as needed).
Enjoy!
3.5.3226
Chelsea Lords
Chelsea is the blogger behind Chelsea's Messy Apron. She is always experimenting in the kitchen and making new things to eat. "Or I am in the kitchen eating. Both are good." She tries to eat a balanced diet of healthful foods, but she loves desserts. You will find most of her recipes are healthy and easy, but still taste great! She has found that eating is all about balance and she hopes that that is the case on her site!