Garlic Mushroom Noodles is an easy side that goes well with grilled chicken, pork chops or asian mains. Silky smooth egg noodles are tossed in a quick sauce with sauteed mushrooms and lots of golden garlic!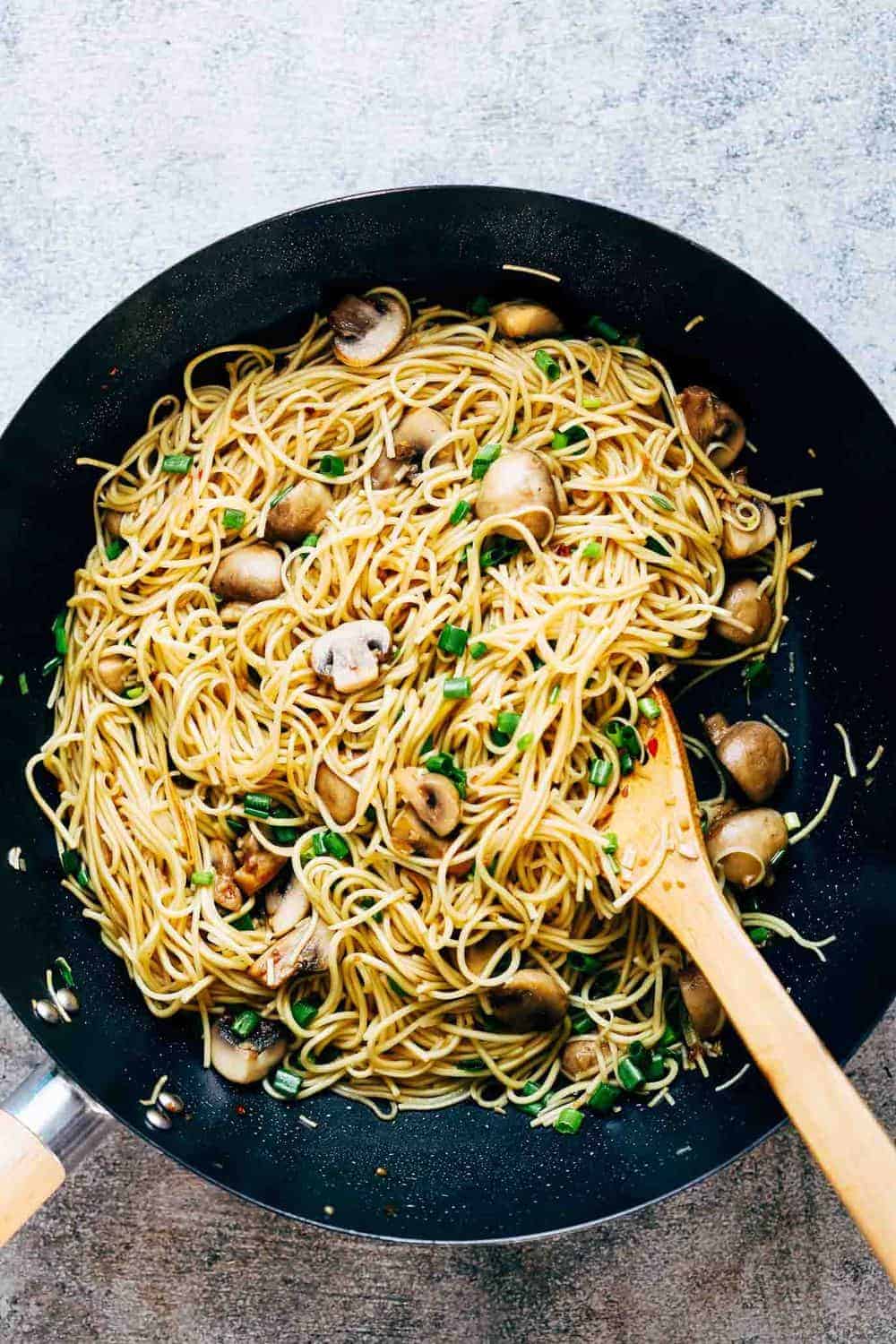 Hey there, this is Richa from My Food Story and we are huge fans of everything garlic, and these garlic mushroom noodles are the perfect celebration of that! This is such an easy recipe that you'll be making it again and again. We had this at our favourite chinese restaurant the other day and we couldn't believe how good this way. I managed to get the recipe out of the chef and when I looked at the list of ingredients and how to make it, my jaw dropped to the floor.
The entire magic is really in the garlic. You need about 8 cloves which seems like a lot but it isn't. The garlic is stir fried in hot oil till it becomes golden brown but is just a little shy of being burnt. The oil is infused with garlic and that crispy garlic brings a flavour that's hard to beat.
Like any Asian cooking, the key is to cook everything fast on a high flame. So it's important that you have your mushrooms cut, and noodles boiled because the rest will only take you ten minutes to finish.
These garlic mushroom noodles are kid friendly because my niece approves. They aren't spicy, just have a ton of flavour and kids love noodles, don't they. I also like them cold which sounds weird but for some reason, these noodles taste even better the next day. Probably because the flavours have really seeped in.
Find mushrooms that are easily available. Button mushrooms work well here but if you are feeling fancy, you can add an assortment of mushrooms to this recipe to amp things up.
Those noodles are definitely calling my name!
Garlic Mushroom Noodles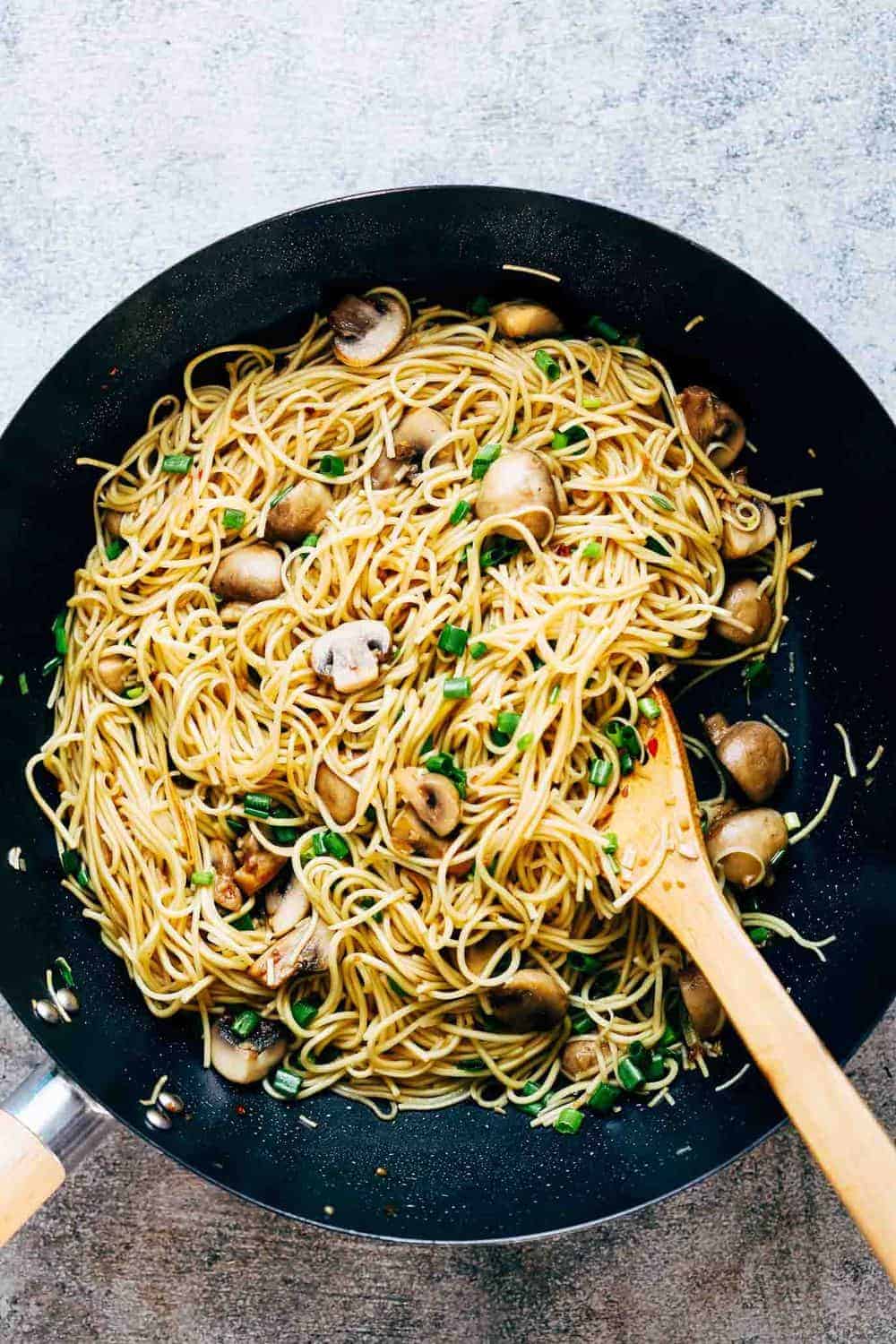 Author: Richa @ My Food Story
Recipe type: Side
Cuisine: Asian
.5 pounds dried Egg Noodles
2 tablespoons Vegetable Oil
8 Garlic Cloves, finely chopped
2 cups Button Mushrooms, halved
3 tablespoons Soy sauce
½ teaspoon Chilli Flakes
1 tablespoon Rice Vinegar
2 tablespoons Sweet Chilli Sauce
1 tablespoon toasted Sesame Oil
½ cup finely chopped Scallions (green part only)
Boil egg noodles in salted water according to package directions. Once cooked, drain, rinse with cold water and set aside.
Whisk together soy sauce, chilli flakes, vinegar, sweet chilli sauce and sesame oil and set aside.
In a wok, add oil and garlic. Stir fry the garlic till they are golden brown and add mushrooms. On a high heat, saute the mushrooms for two minutes. Add the cooked noodles, along with the sauce and toss well on high heat.
Sprinkle with chopped green scallions and serve hot.
3.5.3226
More Easy Recipes
Chinese Cashew Chicken Noodles
Shrimp Spaghetti Aglio Olio